Please extend a warm welcome to Eren Fitzgerald, the illustrator for this short vignette! You can find more of Eren's work at TamuranComic.com. He's a fantastic artist and a wonderful friend. Thank you so much for helping me with this short story Eren!
A special thanks to Noel Arthur Heimpel as well. They helped me review the script and their suggestions really allowed me to take it to an even better level. You can find Noel's work at IgnitionZero.com. Thanks Noel!
After the feedback on chapter 11, one thing that became clear to me was I needed a better way to bridge between the A cast and the B cast. Spending so much time away from Mizha, Zhiro, Tama, and Kali made people feel disconnected from them. On the flip side, neglecting Pakku, Una, Warren, Lu Pai, Milan, and Renar in the B cast meant that when I finally did get back to them, I ended up with a mammoth 100 page chapter.
When I heard about the vignettes that Eric Menge of Snow by Night does between chapters, I thought that would be a great compromise. This way we can stay in touch with the other cast members, but in a more bite-sized way. Plus, it was a great challenge to me as a writer to make a story that was short and compact. This vignette is 11 pages long, focusing on an important moment in time for Una as she continues to wrestle with her hard-learned convictions about life and her desire to be accepted for who she is. I hope you enjoy it!
SpiderForest Comics of the Week 2016
Stargazer's Gate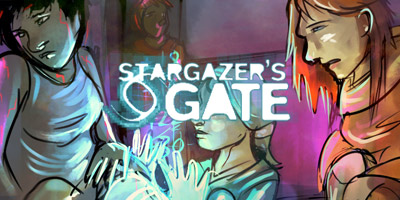 Atrina Vilanar discovers an alien civilization on the other side of a strange gate! Alien to Atrina, at least. People on the other side seem to recognize her. Back home, Leawyn still believes Atrina is alive, and will do anything to find her.
Storm and Desire


STORM AND DESIRE is an epic sci-fi/fantasy adventure comic about three women whose fates collide: WYNDERIA, a scientist-musician & interdimensional explorer; LORELEI, a cyborg translator & occasional singer; and ANJETTE, an intelligent weapon system & occasional sorcerer. Together they set out to learn the secret history of the multiverse…