I forgot to put in the related links the last few pages, so if you're trying to remember what Mizha and Zhiro are talking about, Mizha re-lived her past regret in her Dreaming back in chapter 10.  You can also review the section for chapter ten in The Story So Far section.
If you were a backer of the fourth book, don't miss out on this week's Kickstarter Update, because backers are getting to vote on what extras to include in the back of the book!  Let your voice be heard and pick your favorites!
Speaking of favorites, the comics in this week's feature are in one of my favorite genres:  Urban Fantasy!
Spider Forest Comics of the Week 2016!
Spare Keys


YALP Business Review:  *****!!  Thank you Toby and Marion!  I was SOOO weirded out by the GHOST haunting my closet, (like, who DOES that??) but now that you got him out of there it turns out he used to be an accountant AND an amateur chef?!!  He's balanced my books and makes an AMAZING omelette.  Of course, he doesn't pay RENT, but other than that he's the best roomie I've ever had. <3
YALP Business Review: * – I LOST A LEG.  Some professionals you are!  I'd give you NO stars if I could!  I mean, sure, that thing in the pool would have eaten the rest of me, but couldn't you have done, I don't know – preventative maintenance or something?  I'm pretty sure that – what did you call it?  Greenteeth?  More like PSYCHO WATER WTICH amirite?  Anyway, pretty sure freaks like that AREN'T supposed to live in SWIMMING POOLS.  Nice job, jerks!
YALP Business review: **** – Greetings Toby and Marion.  You'll be pleased to hear the breathing exercises and yoga seem to be working. No new Boggart infestations for a whole year!  BUT I have some exciting (?) news…I'm getting married.  Which is lovely, except my mother insists in being involved in all the planning and I've noticed things are going missing again.  I try to laugh it off, but – well, do you think we could make an appointment for next Tuesday?  Just in case.
(I know I could have just put a standard summary here, but writing made-up reviews inspired by different Spare Keys storylines was just way more fun!)
Heracle's Knot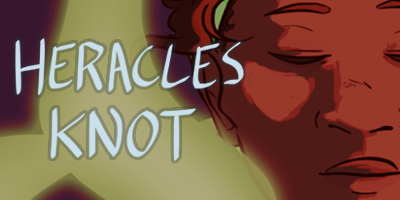 Four years after a traumatizing supernatural experience, Leland Henderson and his best friend Jaida Warner are well on their way to becoming Wardens, members of the Order of Peridexion, which oversees diplomatic relations between humans and non-humans. For the most part, it's not far off of what they expected; they're learning magic, learning how to fight, and learning how not to offend faeries. But what they didn't expect was the Order's bloody history, or the mysterious illness killing off non-humans, or Leland having to face his own genetic heritage on the regular. And the more Leland and Jaida learn, the less certain they are about joining the Order – and more certain they can't escape it.