We first saw this particular oddly shaped mountain spire back in chapter one.  The High Sage lives at the top.  But what used to live there, before the castle was built? For those of you that own volume three, you now see the added seasonal significance of the back-of-the-book-extras on horoscopes.
New Patreon Vlog! As usual, the first vlog of the month is open to everyone!  If you'd like to see all of my weekly vlogs, become a patron for as little as $1/month! Thank you so much to everyone who is already a patron.  100% of the funds go to paying my color flatter Sorrel (who also sends me those joke panels and is the inker behind the covers for chapters 12 and 13) for her work.  It is a huge help and much appreciated!
THIS WEEK:  Booth mock up!  I've been redesigning my booth for the 2017 season to create a more modular design.  What do you think of it so far? (Also a sneak peak at the sample copy of book 4!)
In other news, recently the Spider Forest Collective welcomed new members to the group and I'll be featuring them here over the next few weeks by category.  There's some fantastic stories in here by some great people, so I hope you'll check them out!
The theme this week is…
Sword-Swinging, Spell-Slinging Fantasy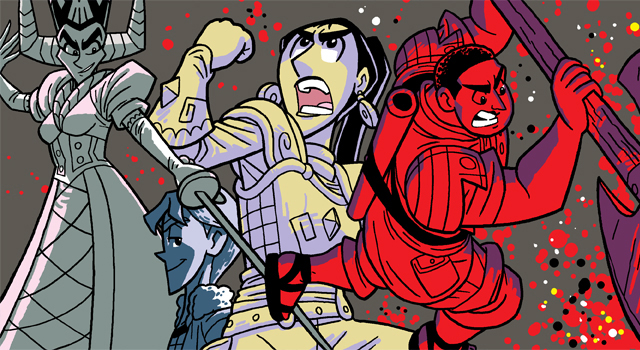 Monster Lands – A fantasy/dramedy story that focuses on the axe-wielding, monster-riding adventurer Othera as she battles against the tyranny of the evil queen Eren Lorry!

HELM – Embark on a journey across the dark and dangerous world of HELM in search of the legendary Bastard King.

Saffron and Sage – Saffron and Sage is a comedy/action comic about a group of adventurers trying to rescue a kidnapped Prince while learning valuable life lessons.

Sell Spell – When Sedo, an illegal spell-for-hire, is tasked with "retrieving" a mysterious artifact, he cons a gullible Mage's apprentice and his motley crew of bodyguards into helping him. However, as simple treasure hunt turns into treacherous cross-country journey, Sedo gets the sinking feeling he is being hunted… and more importantly, underpaid.